Tile, Marble & Terrazzo (TMT)
Significant prospects exist for the tile, marble and terrazzo industry in new construction as well as the growing sustainable retrofit market. These materials can improve the performance related to energy efficiency, occupant thermal comfort and indoor air environment. Tile, marble and terrazzo are beautiful and durable finishes that perform well and have excellent life cycle advantages.
Get professional development credits and learn more about tile, marble, and terrazzo through upcoming seminars, webinars, and other events.
View all IMI Events
2018 Tile, Marble, Terrazzo Seminar Series
Earn up to 4 continuing education units and learn about tile installation challenges, stone cladding technologies, sustainable epoxy terrazzo systems, seamless flooring systems, and more during the 2018 TMT Seminar Series. The series will visit 6 cities in 2018, including St. Louis, Seattle, Cleveland, Chicago, Los Angeles, and New York City.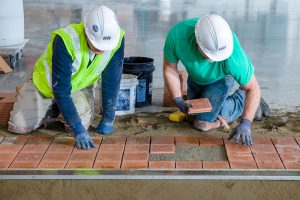 Join IMI for the 2018 TMT Seminar Series in a city near you!
Consider retaining one or more of three subparagraphs below. Qualifications in subparagraphs are not equivalent; investigate them and consider retaining those that can help assure that Installer is qualified for project.
Installer is [a five-star member of the National Tile Contractors Association] [or] [a Trowel of Excellence member of the Tile Contractors' Association of America].
Installer's supervisor for the Project holds the International Masonry Institute's Foreman Certification.
Installer employs [Ceramic Tile Education Foundation Certified Installers] [or] [installers recognized by the U.S. Department of Labor as Journeyman Tile Layers].
The International Masonry Training and Education Foundation (IMTEF)
The International Masonry Training and Education Foundation provides training, certifications and continuing education programs to the members of the International Union of Bricklayers and Allied Craftworkers. These programs begin with pre-job training and training for apprentices, and continue throughout a craftworker's career in brick, stone, tile, marble, terazzo, pointing-caulking-cleaning, refractory, plaster, cement and mosaic work. New cladding systems and installation technologies are also emerging, and IMTEF provides advanced training for these opportunities as well. IMTEF is funded through a grant from the International Masonry Institute, a labor-management organization created by the members of BAC and the contractors who employ them.
VISIT IMTEF.ORG
Tile, Marble, Terrazzo News
The International Masonry Institute (IMI) is a strategic alliance between the International Union of Bricklayers and Allied Craftworkers and the contractors who employ those members. Through education, technical support, research and training the IMI works to provide a more efficient construction delivery system.