01.030.0321:
Base of Wall Detail - Brick Ledge, T/Fdtn. Above Grade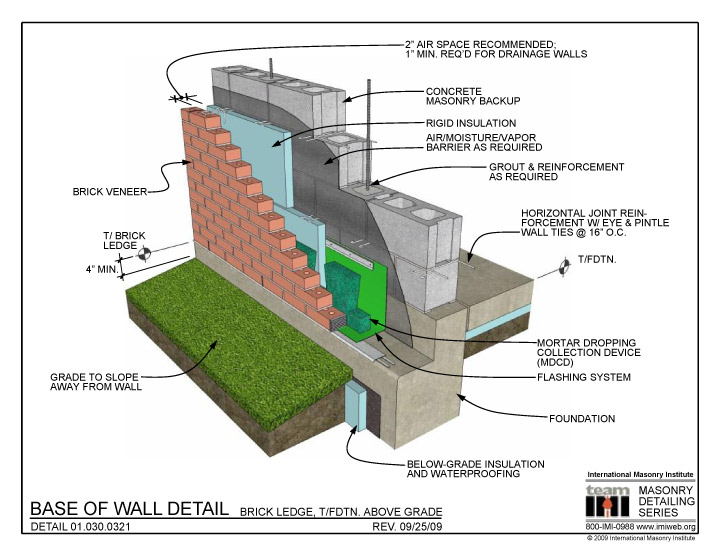 DESCRIPTION / NARRATIVE
Details 01.030.0321 and 01.030.0321.2D (Brick Ledge – Top of Foundation Above Grade):
Foundations with a veneer shelf that is lower than the top of foundation and floor level can prevent moisture that might penetrate the flashing system from entering the building. They are also used when finished grades vary. A drip edge may be omitted at the designer's discretion if the finished grade is kept 4" to 6" below the masonry veneer.

Related IMI Tech Briefs (pdf)
2.7.3: Flashing Installation: Masonry Veneer
2.12.2: Reviewing Construction Documents: Architectural Drawings Part 1 of 2
2.12.4: Masonry Cavity Walls: Systems and Construction

INFORMATION / DISCLAIMER: It is recommended to use all components of the Masonry Detailing Series (Description, 3D Detail, 2D Detail, Pictures/Figures and References) when using these details. We also encourage users to contact IMI Staff at 1-800-IMI-0988.
These details are intended for the use of industry professionals who are competent to evaluate the significance and limitations of the information provided herein. This publication should not be used as the sole guide for masonry design and construction, and IMI disclaims any and all legal responsibility for the consequences of applying the information.
It is important to note that details and construction practices vary based on geographical requirements and area practice. Masonry walls and elements must be adapted for each specific project. There are many typical details and practices, however, designers and contractors need to coordinate each detail with the unique elements of the building.